Mu'k-'am Ka 'I-ni'iko: We are all family.
To learn more, email: coastmiwokofmarin@gmail.com
July 3, 2023 marks the first rematriation of Indigenous land in Marin County history!
A 501(c)3 dedicated to supporting the Indigenous spiritual practices,
traditions, wisdom teachings, and culture of
the Coast Miwok Tribal Council of Marin, the land's original caretakers.
Thanks to an outporing of generosity ranging from small individual donations to private family funds to large foundation grants, Huukuiko was able to purchase 25.9 acres of Coast Miwok Ancestral Homeland in 'Etcha Tamal (Nicasio) on July 3, 2023.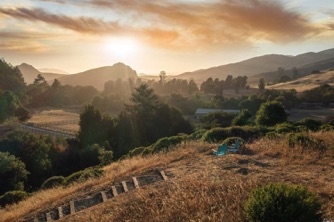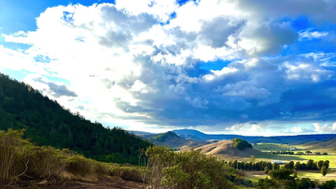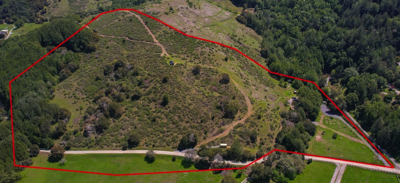 Aerial view of property outlined in red.
Below: view looking West
Upper photo: top of property, afternoon
Lower photo: midway point on property, sunset
"This is right. These hills, valleys and creeks in the very center of the beautiful Marin Peninsula are the home place of the Huukuiko people. This place, called 'Etcha Tamal, was part of the vast Coast Miwok homeland stretching from the ocean to the bay. More than 175 years ago, this rich and sacred land was taken from the people by one alien government and then another. Here in this valley, the new landowner allowed a small number of the original people to stay, and in 1872 the next owner sold twenty-five acres to Huukuiko elder, Jose Calistro, so that he could continue to live with his children and sisters and brothers and cousins. Less than 20 years later the land was lost again, another white man taking ownership, and so it has been for well over a century. Now we are approaching the time where some of this land can be returned to the Huukuiko people and their sisters and brothers: this is right."
Dewey Livingston, Marin historian
What happens next?
The Tribal Council will be developing ideas for possible workshops, presentations, and tribal activities both onsite and off-site. If you would like to make a tax-deductible donation to support the Council's work in the community and with tribal members, please send a check to Huukuiko, Inc., PO Box 725, Nicasio, CA 94946. Please include your email address in the memo line so we can send you a donation receipt.
To subscribe to our email list to receive periodic updates about what's happening, please email nancy@wisdomtracks.com.
READ HOW IT ALL CAME ABOUT!
July 23, 2023: Marin Independent Journal Editorial